Biography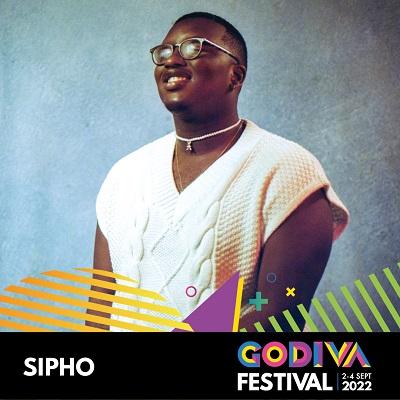 Performing Sunday 2 September on the Main Stage
In the summer of 2021, SIPHO. found himself alone in London. He was visiting from his home in Birmingham for session work and his manager couldn't be there as normal, so the 21-year-old artist spent weeks knocking about an unfurnished two-bedroom flat in Wandsworth with a "weird vibe". One especially boring weekend, he cycled a few miles to Kensington to buy a small bluetooth speaker – something to make some noise; a presence in the otherwise empty rooms. It was in that bubble of accidental solitude that SIPHO. fell for many of the funk rock bands that would shape the sound of his second EP, 'SHE MIGHT BLEED'.
"Every morning, and even when I got back from the studio, I'd have different stuff playing – Sly and the Family Stone, James Brown, a bit of Funkadelic," SIPHO. says. "Obviously there's documentaries and information on all that stuff, so I was taking in the concept of 'the one' and trying to understand what made a bit of that magic." The walk between the studio and the place he was staying was less than five minutes, which is no distance at all for magic to travel, and – perhaps through inevitability, perhaps through intuition – it crept into SIPHO.'s own work. "It was like, if I'm not in the studio, this is what's going on in my head. So I guess it just came in there by osmosis."
Daring and magnificent in scope, 'SHE MIGHT BLEED' sees SIPHO. continue to push boundaries. His debut EP 'AND GOD SAID…', released through Dirty Hit (The 1975, Rina Sawayama, Wolf Alice) in June 2021, whipped rock, R&B, gospel, soul and electronic music together into a sound that's as exciting as it is undefinable. Since then, SIPHO. has not stopped working – or, as he would phrase it, studying. "I've been blessed with plenty of opportunities," he says. "I've had a chance to think a bit further about how I can be consistent, how I can maintain the creativity, see how it all feels and get used to being on the go all the time." But if there's a sense of intimidation or anxiety around releasing a follow-up, SIPHO. doesn't show it. To him, it's all a part of growing as an artist. "Before Dirty Hit it was like, you make something whenever you want, put it out whenever you want, and if people like it they like it, if they don't they don't. Now, it's a bit of a bigger situation. A chance to learn."
'AND GOD SAID…' was a coming of age EP in some ways. Having been raised as part of the Seventh-day Adventist church, devotion intermingles with scepticism around the religious industrial complex as SIPHO reconciles his own relationship with God throughout the tracks. Running alongside that is an exploration of another kind of duality – Black male identity – which is continued on the new EP. Across six songs, 'SHE MIGHT BLEED' dives further into themes of hyper-masculinity – "how that affects me, and how that affects some of my friends," SIPHO. explains. "The things I've seen happen as a result of how a lot of boys can [become] what we're expected to be, and how we end up being because of circumstance."
One moment sticks out from SIPHO.'s own life a few years back. He used to work at a bar in Birmingham, and one evening on the way in for training he ran into a bunch of kids dressed in all black with their faces covered. "Essentially, I think they were trying to mug me," he says. "They tried to have any excuse to do whatever they wanted to do." Fortunately nothing went left that night, but the awareness that it could have – as it does all the time – still lingers. "A lot of it comes as a result of how a lot of us are taught how to act," he says. "So my initial target was a study – not only in violence, that's one product of how we view things as young men, but of the way we present our characters to the outside world, and the way we view and treat some of the women in our lives."
Coming together in just under a year, 'SHE MIGHT BLEED' saw SIPHO. reunite with producer/engineer Joseph Rodgers. An intimate team of two, they worked on the songs in concentrated chunks with breaks in between as SIPHO travelled back and forth to London. "A lot of it was trying to figure out the direction, seeing what I could do new, and having all of the different kinds of creative mental breakdowns you can have until you get to wherever you get to," SIPHO. reflects. "When we sat there towards the end and spent a day listening back through the whole sequence, we were both kind of like, what is this? We didn't know how to feel. It was just like, okay, we've made something. Feels good, I think?"
Centred on the theme of hyper-masculinity, a linear narrative runs from beginning to end to tell the story of one man (mixed in with a bit of whatever was in the atmosphere of the studio at the time). Explosive opener "I DON'T GET IT" introduces us to the character through the front he puts up for others; bravado-laden lyrics swaggering in step with groove-heavy beats that, by the end, ease into a soulful jazz instrumental. The downtempo "OCCASION" picks up from there, continuing to peel away the layers and give more shape to his vulnerabilities ("Oh how I run to you, you know I want you now / Don't come too close your water's close and I might drown").
The reckoning begins on lead single "BEADY EYES" – a pure rock track about the beginning of knowing yourself while still self-sabotaging and hurting those around you. Driven by a torch-bearing bass line and a pre-chorus of operatic proportions ("Cause I like my smiles mixed with a hint of tears / All up in your guts and your fears was I / Wanna take you far from here"), it's equal parts raw and theatrical, mixing menace with melodrama. When they finished it, Rodgers said half-jokingly that it sounded "like Black Meatloaf".
"I feel like I'd discovered a lot about music of Black origin, and how there's a lot of different sounds that we wouldn't necessarily associate with that title that actually come from that space," SIPHO. says of the sound overall. "I think a lot of things came together not necessarily with intention, but kind of knowing it's gonna go in this direction".
"The route I took with the rock thing was more of a tasteful kind of whisper in your ear," he adds – cathartic, but not the true guts of the music. For SIPHO., release comes more from the soulful side of his sound, which offers an opportunity to stop and slow things down. "You can only do angst for so long," he says. "It's a short tempered flame. When you're in your feels you can do the rage thing for a few minutes, but after that you're probably just gonna cry for about eight hours."
The EP follows a similar logic. After "BEADY EYES" you're thrown into a dark interlude of heavy breathing, incomprehensible yelling and an abstract instrumental that makes use of a Prophet synth they found in the studio. A moment of sudden pause and transition. Then "FADIN'" kicks in with clean guitars and textured drumming that finds the sweet spot between Frank Ocean's Blonde and Radiohead's In Rainbows, while our character narrates his own death. "A lot of situations were coming to a head for me in terms of relationships changing and a lot of transitions happening," SIPHO. says. "So a part of it was also a bit of a reconciliation. It was kind of me writing like, 'Oh, my heart's broken and it feels like I'm dying. Here's a song where I'm literally dying.' Just being hyperbolic and dramatic, because I can."
Finally, closing track "CHIASMA", driven by SIPHO.'s vocals – at once primal and angelic – brings the hammer of judgement down on itself. No punishment comes with it, but that's not the point. Our character acknowledges himself matter-of-factly, before taking leave. It's very much in keeping with SIPHO.'s manner of storytelling, which ring fences overwhelming feelings that are often difficult to put your finger on. Poetic and precise, his lyrics take bits of influence from all over the place – Sampha, Frank Ocean, certain films and TV shows – with the end goal of finding different ways to say simple things.
A part of that curiosity comes from his mum, who's an avid reader and always encouraged him to pick up books growing up. "She was reading a lot of Chimamanda Ngozi Adichie and Beverley Naidoo," he says. "It's all very African English, so to speak, where it's really advanced for no reason other than to show that they can speak English." While SIPHO. is still "terrible" at reading, the amount of detail those authors brought to their writing illuminated a new world of things that could be done with words. "My mum would always tell me 'you can write in as much detail as you want if you can. You could write at least two pages about someone just sitting down in a chair.' And all that kind of stuff helped me learn how to challenge myself and rearrange different ideas and curate."
The result is an EP that grips your senses in every way. The instrumentals duck and weave like a dance troupe and the lyrics paint pictures so vivid you could almost step into them directly. 'SHE MIGHT BLEED' shimmers and forebodes, compels and challenges. It burrows deep inside the darkness and tells a story not from a place of judgement, but from a desire to understand. "I don't write from the perspective of a saviour, I'm reporting the news," SIPHO. says. "I'm just trying to figure it out too."