Biography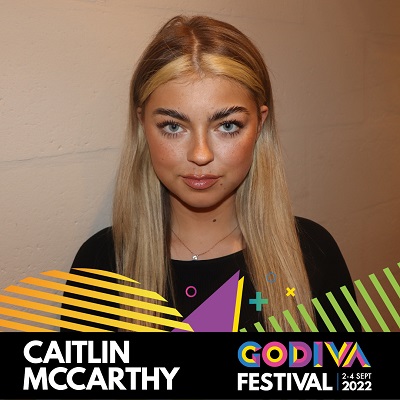 Performing Sunday 4 September on the Main Stage
Caitlin McCarthy is a 17 year old singer songwriter from Coventry. Who has a powerful soulful voice way beyond her years. Named as a star of the future (Tony Collins hot music live) and dubbed a mini Adele (Pete Chambers Music Matters Coventry Observer) Caitlin's Music is pop with hints of soul and R&B and she is fast becoming a rising star who has already been played on BBC Introducing Coventry and Warwickshire and several radio stations up and down the country.
Caitlin's single Goodbye was released in November 2021 to raise money for Local and National NHS charities as well as Standing with Giants and reached number 45 in the ITunes pop charts and 99 across all genres and was featured on Local and National BBC news.
Caitlin has played many festivals up and down the country including Godiva Festival, Wyefloat Festival, Staffest and Covtember to name a few.
Caitlin has played some of the best music venues in the Midlands including HMV Empire Coventry supporting Life, Hare and Hounds Birmingham supporting Laura Aston, Queens Hall Nuneaton supporting Vicky Jackson (Pink).
Caitlin has headlined gigs at The Arches Venue Coventry and has performed at The Tin Music and Arts Venue and is The Coventry Music Museums current Artist of the month.
In 2021 Caitlin was chosen out of hundreds to be one of 14 Modern Day Lady Godiva's to represent Coventry as part of Coventry City of Culture 2021 because of the work she does for youth charities in the city such as Fridays, Guiding Young Minds, The Daniel Kennell Foundation and This is me an achievement she is incredibly proud of.
To end the year Caitlin was asked to perform at The Coventry Christmas Lights Switch on to over 6000 people which was an absolute honour.
Caitlin has recently just headlined the iconic Bedford Pub in Balham London which has been host to the likes of Ed Sheeran, Sam Smith, Jorja Smith and George Ezra to name but a few.
Caitlin is joined on stage with her amazing band:
Liam Hopkins (guitar)
Thomas Iliffe (keys)
Lewis Cutts (bass)
Ali Hutton (drums)
Together they create a phenomenal sound that you will definitely want to hear more of.