Biography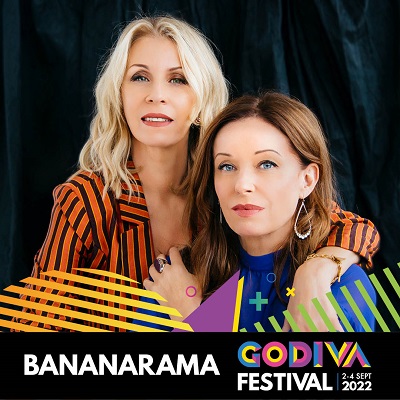 Performing Sunday 4 September on the Main Stage
Bananarama's Sara Dallin and Keren Woodward celebrate the group's 39th anniversary and their achievements speak for themselves. Two Band Aid appearances, an entry in the Guinness Book of World Records as the most successful female band worldwide with the most charting singles, many of which were international hits, four hitting the US Billboard Top 10 including a No.1 with Venus. To date the duo have had 32 Top 40 UK hits. They have released 11 albums and sold 30 million records.
Bananarama formed in London in the early 80s, Sara Dallin and Keren Woodward had been living in the YWCA which was about to close so were looking for somewhere cheap to live on a students wage. After a chance meeting with Paul Cook (ex Sex Pistols) at the club Studio 21 their problem was solved, he offered the pair a room above the Sex Pistols old rehearsal space in the legendary Denmark St. Charing Cross. The walls were covered with Johnny Rotten's drawings of Sid and Nancy and Dallin and Woodward added their own names to the mural . The 17th century townhouse is now a Grade II listed building.
The teenagers used to come in after clubbing and plug the guitars in and party. Dallin and Woodward had their first taste of the music business recording demos with bands in the studios of Denmark St (previously used by the Rolling Stones, Bowie, Small Faces, Elton John). They also learnt to play bass and did backing vocals for fun for Paul Cook and Steve Jones new band 'The Professionals' and visited Richard Branson's Manor Studios in Oxford for the recording of the album where they had dinner with the man himself and Lemmy from Motorhead. A whole new world was opening up!
Sara and Keren's first appearance on stage was at the Camden Palace, London, singing backing vocals for their friend Vaughn Toulouse's band Department S.
A singular talent for directing their own fate teenagers and childhood friends Sara Dallin and Keren Woodward met Siobhan Fahey when Dallin attended the London University of Arts (London College of Fashion) to study journalism. Drawn together by their similar distinctive look, monkey boots and back combed hair and a love of Patti Smith they became fast friends. Woodward was working at the BBC. The three of them started writing songs and jumping on stage with their art school friends bands. Supporting Iggy Pop at the 'Rainbow' Finsbury Park on one occasion.
Their first demo was a cover of 'Black Blood's' 'AIE A MWANA' and sung in Swahili which they learnt phonetically. The band didn't have a name at this point but they thought Bananas sounded tropical and Dallin, a big fan of Roxy Music looked through their song titles and found 'Pyjamarama'.
The track was released as a demo and reached No 92 in the UK charts. One early radio play from legendary Radio 1 DJ John Peel and it came to the attention of Terry Hall (ex Specials) and his new band Fun Boy Three. He contacted them and asked them to sing on some tracks of their new album one of which was 'T'AINT WHAT YOU DO' their first Top 5. The Fun Boy Three returned the favour by singing on Bananarama's first hit 'REALLY SAYING SOMETHING'
The trio started writing and demoing songs and for the next five years Bananarama was everywhere and so were their hits. (SHY BOY', 'NATHAN JONES', 'I WANT YOU BACK' 'LOVE IN THE FIRST DEGREE') They became international hot property when hits 'CRUEL SUMMER' , (which appeared in the film 'Karate Kid'), hit the US Billboard Top 10 with the video shot in NYC, 'I HEARD A RUMOUR' No. 4, VENUS No.1 and 'ROBERT DE NIRO'S WAITING' paved the way for the now legendary meeting between the girls and the Hollywood superstar.
Identifying the right producers/collaborators at the right point in their career has always been their strong point from Jolley and Swain who produced their debut album 'DEEP SEA SKIVING' and follow up 'BANANARAMA' to Stock/Aitken/Waterman who produced the Platinum selling WOW! to Dallin and Woodwards albums ( Fahey left in early 1988) 'POP LIFE ' produced by Youth (U2, Paul Mc Cartney) and 'DRAMA' produced by Murlyn
Siobhan Fahey was replaced by Jaquie O'Sullivan in 1988 and the trio embarked on their first wildly successful world tour. O'Sullivan recorded the critically acclaimed album 'POP LIFE' with Dallin and Woodward in 1991. After this album Dallin and Woodward decided to continue as a duo, recording five more albums, 'PLEASE YOURSELF' 1993, 'ULTRA VIOLET' 1995, 'EXOTICA' (French project) 2001, 'DRAMA', 2005 and 'VIVA, 2009.
'DRAMA' was written and recorded in Stockholm with Swedish hitmakers Murlyn (singles 'MOVE IN MY DIRECTION' & 'LOOK ON THE FLOOR' Top 20's UK, US Billboard dance No. 2)
In 2012, they toured the US playing 10 dates at the Hard Rock Cafes in support of the Pinktober breast cancer awareness charity and released a brand new 4 tracks digital EP called NOW OR NEVER. February 2016, saw them tour Australian and Japan.
In 2017 Dallin and Woodward asked Fahey to join them for a one off 'Reunion Tour' of the UK . This once in a lifetime opportunity (Fahey had never toured live with Bananarama) sold out immediately and 10 more dates were added to the original 15. They played a handful of US shows and UK/European summer Festivals including 'British Summertime' in Hyde Park with Van Morrison and Michael Buble and 'Lytham Festival' with Nile Rodgers.
January 2019, Bananarama announced the release of the their 11th studio album In Stereo due to 19th April 2019.
For the past three decades, Sara Dallin and Keren Woodward have been one of pop's most influential and revered groups. Their hit packed career happened because they were the mould-breakers. Sometimes reminders of pop genius come in the slightest of touches, the subtlest of triggers. In Stereo, their 11th studio album, is full of them and includes the hit singles Stuff Like That and Looking for Someone.
It was followed in the spring by a UK tour of intimate venues and incorporated Q&As with the audience. The band performed the hits as well as material from the new album In Stereo and songs they never performed on stage before. A live album of the tour was release on November 2019 called Live In Stereo.
From a ground-breaking performance at The Brits, to sold-out world tours, party games with George Michael, hanging out with Andy Warhol in New York, to playing Glastonbury last year- Bananarama's DIY-style and attitude inspired a generation, obliterating all previous notions of what a girl band was or could be.