Biography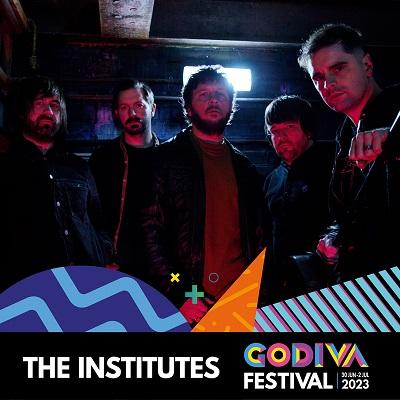 Performing on the Next Stage on Sunday 2 July
Emerging from the camaraderie of Coventry's 2019 music scene The Institutes knew immediately there was something special about their combined creative talents and set about crafting a wall of sound which has been described as "spellbinding", "anthemic" and "an edifice of pure gold" They have a knack for making candid tales of love, regret, fear and joy mean all things to all people. Their debut album, which was released by Manchester's irreverent emerging indie imprint, 42's Records in October 2021, led by a string of singles, which picked up national radio support (Alleyways, All That You'll Ever Know, and I Just Can't Keep Myself From Loving You, including plays and rotations on BBC Radio 1, BBC 6Music and Radio X.
COLOSSEUMS was released to critical acclaim, 'walking the tightrope of mass melodic appeal and artistic integrity', while gaining them respect and love from high profile fans such as Robert Carlyle, Mani of The Stone Roses and The Courteeners.
In early 2022 Tim Burgess (The Charlatans) invited them to host a legendary Twitter Listening Party play back of COLOSSEUMS, paving the way for 2022's debut USA tour. Playing over 20 gigs in 2 weeks taking in New Colossus Festival in NYC, SXSW in Austin TX and a sold-out headline show at LA's Harvard & Stone, before returning to the UK to play the Isle Of Wight and Camper Calling festivals.
The Institutes are currently touring the UK, building scenes & magnetically attracting new fans with their music and personal charm, selling out shows the length and breadth of the country from Aberdeen to Manchester and back home to Coventry. The band are currently preparing for an exclusive edition vinyl re-pressing of their sold-out debut album, whilst demoing fresh new tracks for their second album (scheduled for Summer 2023). Their own sound, which shows growth and development borne out of gelling as a band over the US and UK gigs and the addition of Alan Ferguson on 2 nd Guitar.
The Institutes are set to headline The Inn On The Green Stage at Shiiine On Weekender in November 2022, with a constant string of dates building across the UK.