Biography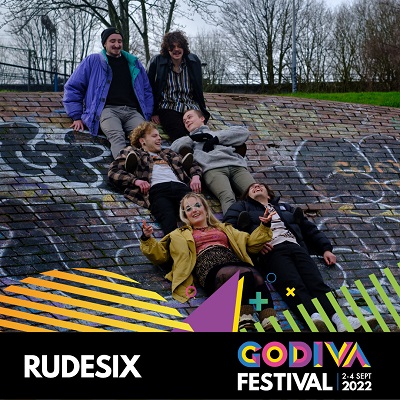 Performing Saturday 3 September on the Next Stage
Just when you thought you'd heard it all, the multifaceted RudeSix come crashing through the ceiling offering their soulful yet youthful rendition of ska and reggae that will undoubtedly ignite that nostalgic old flame.
Founded in Nuneaton in 2018 on a love for all things reggae, ska, dub, rock, and much more – influenced by the iconic 2-tone music craze, including their own local heroes The Specials. RudeSix are a wheelhouse of talents, armed with saxophones and trombones, even some naughty punk guitars too, and the pinnacle, Liv Linley's soulful and inspiring vocals – RudeSix are the plucky newcomers that you'd be foolish not to have on your radar already.
As it stands RudeSix have already secured one EP under their belt so far, 'Trip Club.' A soundscape of rich old-school styles, ignited by a youthful spirit that is bursting through every track, encompassing all the traditional bells and whistles they grew up loving but being unafraid to push boundaries of experimental poppy choruses. Though a premature release 'Trip Club' flaunts RudeSix's sonical variety and talents. Since then, they've had an additional three members join their group – Sam, Jonah and Angus (full listing below), with the band now primarily residing in Birmingham.
Released last December was 'Glue', to be followed by 'La La La' 6th May 2022. Excitingly, these two singles were recorded at the hailed Magic Garden Studio in Wolverhampton with the prestigious industry titan Gavin Monaghan, whose reputation working with the latest and greatest upcoming bands, aiding to really nurture their sound, clearly precedes him. The tracks have also been touched by the magic of Dubmatix, a well renowned Canadian producer in the world of Reggae, working with him was an exciting opportunity for the band as many of them have been longtime fans of his work.
"[Glue] has all the usual great RudeSix traits, rocksteady ska chops guaranteed to make you wanna' dance. Of course, Liv's lead vocals cut through it all but hang on there's a male voice in there too (Dean Pinnegar), and the combined syncopation of the two vocals works so well. It's a nifty little track with some amazing guitar heroics on here just for good measure"
The stage is their home, and RudeSix are never more animated and excited than when they're jamming together for a crowd. A necessary and cathartic experience for those yet to see them perform, RudeSix's live shows testify to the excellence of their music. If you think they sound good through your headphones, you need to hear it in person.
RUDESIX is:
Liv Linley - Lead Singer
Dean Pinnegar - Guitar & b.vox
Angus Sharp - Bass
Harry Bryan - Drums
Sam Shelton - Trombone
Jonah Thom - Sax