Neville Staple - From the Specials
Biography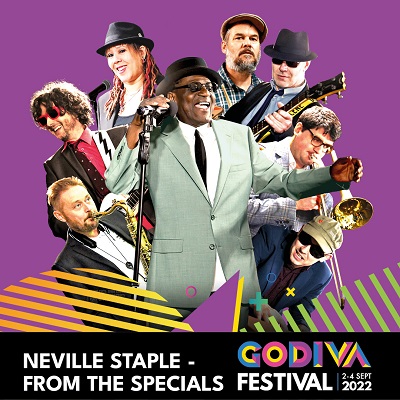 Performing Saturday 3 September on the Main Stage
FROM THE SPECIALS starring NEVILLE STAPLE, the Legendary front man of The Specials, Fun Boy Three and Special Beat and his top class band. Also known as The Original Rude Boy, Neville celebrates 40 years of his super music career, and of the beginning of the 2-Tone movement. Awarded with an Honorary Doctorate by Arden University in July 2019, Neville Staple is credited with changing the face of popular music not only once but twice. His UK and International career in the music industry, is well documented and started out from the early days with Ray King, Pete Waterman (OBE), The Coventry Automatics and his Jah Baddis Sound System, before taking to the stage as a frontman of The Specials and performing at the famous tour with 'The Clash' and Bernie Rhodes. He has performed, written or produced, highly acclaimed and hit albums and singles, along with TV and film soundtracks, including performing on a song for the 2019 Spiderman blockbuster film and more music releases in 2020 and beyond. His musical awards also include MOJO, NME, Gold, Silver & Platinum Discs and a lifetime achievement award from Foxford School in his home City of Coventry (birthplace of the 2-Tone Movement). He is celebrated as a living legend.
Neville continues to write, perform, collaborate and produce new music, including alongside his wife, Christine 'Sugary Staple', and his 2-Tone legacy is huge. The music that fused traditional Jamaican ska and reggae music and style, with punk rock attitude, energy and musical edge. The movement helped to transcend and defuse racial tensions in Thatcher-era Britain and still resonates in today's Brexit uncertainties. The actual black and white chequered imagery of 2 Tone has become almost as famous as the music itself. Neville has worked with other top International and mainstream artists too and his work is regularly shared on mainstream TV, Films, Radio and exhibitions, reflecting his highly successful career. His bestselling autobiography, THE ORIGINAL RUDE BOY, was published by Aurum Press in 2009. Neville and the band are currently promoting anti-knife crime, during their UK and International tours, which follows the highly publicised and recent fatal stabbing of Neville's 21-year-old grandson. Neville Staple and Sugary also work with schools, charities and youth groups, providing awareness talks, performance tips, music lesson guest-tuition and fund-raising activities. He is also a patron of the Coventry Music Museum at the 2Tone Village, Cefovid Uganda and is an Ambassador for various charities including Musicians Against Homelessness.
Neville Staple's collaborations and joint tours / shows, have included all of the bands & artists shown, plus work with Amy Winehouse, Rancid, Save Ferris, No Doubt, Planet Smashers, Desmond Dekker, The Undertones, The Clash, UB40, The Jam, Sting, Madness, Midge Ure, Kim Appleby, Leee John, Toyah, Hazel O'Connor, Ferry Aid Collective, Bob Marley's Estate, Bananara­ma, Dreadzone, Roy & Yvonne, Stranger Cole, Dub Pistols, plus so many more, over the decades.
In 2019, Neville Staple changed his band name to 'From The Specials' (Ltd) in celebration of his 40 year anniversary of 2Tone, and 42 plus years, since he first joined forces with with Jerry Dammers, Roddy Byers, Silverton Hutchinson, Lynval Golding, Tim Strickland and Horace Panter (before John Bradbury and Terry Hall replaced Silverton and Tim).
The FROM THE SPECIALS BAND (aka. Neville Staple Band) Musicians are a professional collective of musicians who have worked in the music industry for decades, with various members and deps having regularly worked with The Specials, The Selecter, Bad Manners, Madness, The Beat, The Talks, Flipron, Roy 'Mr Symarip' Ellis, Rat Scabies, Stranger Cole, Dandy Livingstone and many, many more. Some of the band members write and produce music too and have appeared on a number of TV shows, including Peaky Blinders, Live at the Water Rats, The Vintage TV Sessions, BBC at Glastonbury, the One Show and many more. Aside from Neville Staple and Sugary on vocals, the band musicians includes Joe Atkinson (keys), Sledge Armstrong (bass), Matty Bane (drums), Billy Shinbone (lead & rhythm guitar), Peter Johnson (trombone) and Drew Stansall (saxophone), plus regular appearances by Spencer Hague, Ross Moore, Davo Edwards, Liam Dixon and other professional dep band members.