Biography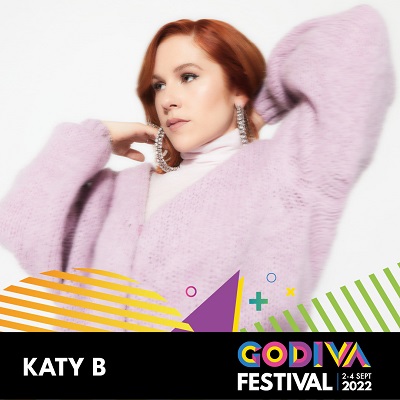 Performing Saturday 3 September on the Main Stage
A decade ago, a petite, auburn-haired singer from Peckham, South London by the name of Katy B came to the fore with debut project 'On A Mission'; a high-octane hit parade building on the promise of her early pirate radio potential. Suffused with personal vignettes exploring the grey area between raves and relationships, augmented by a malleable voice soaring with impact over UK garage, funky and dubstep productions, 'On A Mission' announced the arrival of a new club-conscious renegade with an eye on the revolving door of pop.
'On A Mission' was both a commercial and critical success: the title track and Ms Dynamite-assisted 'Lights On' reached the top five of the UK charts and Katy B was nominated for both the Ivor Novello and Mercury Music Prize. Its success set the precedent for Katy to make her major label debut three years later with her first UK number one album 'Little Red'. She secured the chart double and her place amongst the pop glitterati when her collaboration with KDA and Tinie Tempah, 'Turn The Music Louder (Rumble)', reached the number one spot on the UK Singles Chart.
2016's collaborative project 'Honey' - featuring credits from the likes of Kaytranada and Floating Points - further showcased Katy's ability to distil more cerebral electronica with four-to-the-floor club bangers. But after years on a conveyor belt releasing and touring, Katy experienced a period of disenchantment and emotional upheaval, compelling her to take some time away to recalibrate: "When you first release music you can't wait for the world to hear it; there's this anticipation and excitement around it all. By the time I'd released 'Honey', I knew I needed time away to reboot. I began to lose perspective and I felt quite isolated at times. I needed the break to rediscover myself."
After a three-month sojourn in New York, time spent renovating a home in London and trying her hand at writing for other artists, the desire to release music again loomed large. A prelude to a new era came in the form of a vocal rework of Moses Boyd's '2 Far Gone', reminding the world what a Katy B feature can do; supple, freeform vocals gliding melodiously over cutting-edge production, conveying both feeling and movement in equal measure.
Now, no longer at the behest of a major label, Katy B has returned with a project encapsulating this time in transition. An independent artist once again, Katy's backed by the support of her Rinse family, mirroring her introduction to the scene over a decade ago. "I've come full circle. I love working with a smaller team, it's more insular and there's less opinions involved. When you're signed to a major label there's so many rules. Finally, there's no red tape," Katy says.
This creative autonomy comes through on 'Peace and Offerings', a collection of songs born from intimate, ad-hoc home recordings. The title is a reference to the hard-won equilibrium Katy feels at this point in her life, the romantic paramours who form the nuclei of these lovelorn songs and the synergy between the singer and her devoted fans: "The 'Peace' is me taking myself away and having peace of mind and the 'Offerings' are the songs, the parts of myself I'm giving away or I've given away in relationships. In a way I'm reintroducing myself again."
She's still a dewy-eyed romantic, stewing between states of melancholy and sensuality, paralleling the vacillating energy of her first two projects. But at 32, Katy B has left behind the precarity of her twenties, buoyed instead by sisterhood and sorority found on the Jaz Karis-assisted 'Open Wound', inspired by lockdown tête-à-têtes with her friends; the agonising boy troubles, the monotony of digicentric relationships but also the amity found in shared experiences.
The languid samba feel of 'Open Wound' is matched by the P2J and Monro-produced lead single 'Under My Skin', a minimalist mid-tempo exposing Katy B's molasses smooth vocal and indeed, her unerring love of referential RnB: "I think I consciously leaned into my RnB side more on this project. With the clubs being closed, it reflects what I'd be listening to and vibing to at home."
An evocative, slow-burning vibe runs through the tracks on 'Peace and Offerings', the mood allowed to really percolate and infuse. Over resonant chords and an afro-fusion soundscape, 'Laylow' centres Katy, the object of her affection and their clandestine meeting away from prying eyes. Katy's strength has always been her vocal restraint; her ability to world-build through subtle harmonic layering no more evident than when the track crescendos, stifled desire threatening to overflow.
Much of the project evokes an end-of-summer reverie; the seasonal shifts, the bloom and inevitable doom of transient situationships. It's a project of contrasts and lessons learned: on the Geeneus-produced 'Daydreaming On A Tuesday', Katy wistfully sings of love as a decadent fantasy over breaks and airy atmospherics; the sparse simplicity of 'Floating' and it's "carry me home" refrain sees Katy finding clarity of mind and resolution in the shipwreck of a past romantic entanglement.
"I got my heart broken at one point. These songs were written from times I was in relationships; it charts the happy, loved-up stages but also the indecision and the breakdown. Now, I'm in a position where I really prize my own company. Lockdown was good for me in terms of self-love, it gave me time to process my emotions."
What does Katy B want the world to take away from 'Peace and Offerings'?
"That this isn't a project necessarily made for the clubs. These songs are a taste of what's to come, I'm dropping Easter eggs all over this project. I want people to find an escape in these songs, I want them to feel hope but also the power within themselves."