Biography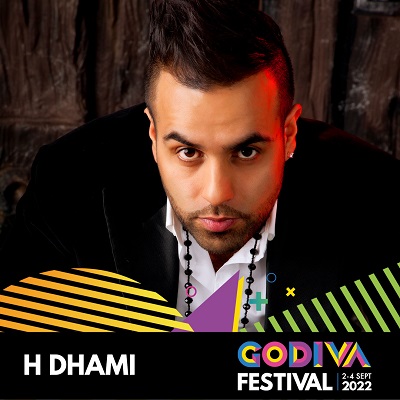 Performing on Saturday 3 September on the Main Stage
H Dhami, is an Internationally Renowned Award Winning and established Punjabi Vocalist, Artist and Entertainer who has a recognised reputation in the Punjabi and Bhangra music industry with an array of awards, best-selling singles and albums.
Born Hartinder Dhami, he grew up in West London with an inheritance of music as part of his life, his father was the lead singer of the successful 80's Bhangra group, HEERA, where H- Dhami even shared the stage to perform only at the tender age of just 6 which ignited his lifelong passion for singing.
He began his career performing at U.K Mela's (festivals) circuit sharing the stage with Bollywood greats such as Shah Rukh Khan. His big break in the music industry came in 2007 when he was signed by Rishi Rich. In 2008 he released his first single, Sadke Java which became one of the big hits of the summer.
Following the success of his single, his debut album was released the next year and hit the number one spot in the Asian Charts and earned him a Best Newcomer Award at the U.K Asian Music Awards. Sadke Java featured 13 songs and some exciting collaborations.
Seven years on from the release of "Sadke Java", Dhami collaborated and featured with artists on singles such as "Tere Wargi" – A mind blowing duet with Garry Sandhu, featured on DJ Dip's Album), a dance floor anthem on GV's album 'Aaj Kal', 'So Much Desi Mix' alongside Raghav,
'Shimmy Desi Mix' alongside Preeya Kalidas, 'Tere Bina Nahi Nachna' alongside En Karma and so on just the few to mention.
'Clap It', produced by The PropheC was released end of 2016 which had seen a totally different side of H-Dhami followed by Zindagi produced by Rishi Rich.
2017 saw H-Dhami release "Tu Mera Main Teri feat. Kiran Dhanoa produced by once again Rishi Rich. Fresh vocals and production on these singles bought back the freshness to the Asian music scene followed by a desi dancefloor success 'Tu Meri Ki Lagdi' produced by DJ Harvey.
Finishing the year off with once again collaborating with Mumzy stranger on 'Jaan Kad Di Jaave' produced by the talented Lyan.
2018 saw a huge collaboration with a multi-platinum selling Dutch artist ('F1rstman') alongside recognised talent in the music industry such as Raxstar, Juggy D & Mumzy Stranger.
In April 2019 H-Dhami released his new single "Falling" featuring Punjabi rapper Raxstar, followed by 'Ki Dassa' produced by Dr Zeus in 2020 and Tu Mera Main Teri 2.0.
Most recently featuring on 'Desi Mashup 3' alongside F1irstman and a line up of some great names.
2022 is looking really exciting for H Dhami with a line-up of releases ready to go.