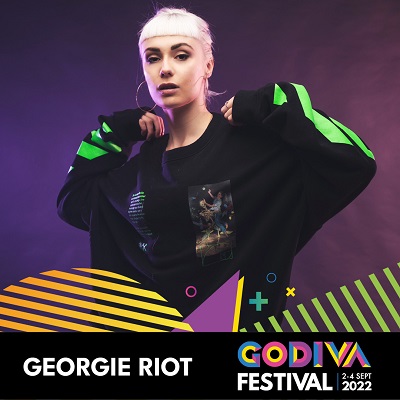 Performing Saturday 3 September on the Next Stage
Georgie is a Drum & Bass DJ and Producer based in the West Midlands (UK).
She found her passion for music in 2008 when she learned to play the drums at the age of 13.
Georgie performed regularly in a band and went on to study Music Production and Sound Engineering in college aged 17.
She soon became captivated for electronic music and rave culture, this led her to discover drum and bass.
Georgie started DJing at the end of 2019; she bought her first pair of CDJ's and became obsessed with learning the art of mixing. She began releasing guest mixes with the likes of BBC Radio 1, KISS and RINSE FM.
Over the past year Georgie has been working hard in the studio crafting her sound in preparation for some exciting releases! She is inspired by artists such as Sub Focus and Dimension.
Georgie's debut single Dance was released in June (2021). Her debut drum and bass single Take Over will be released on February 14th 2022 and has already had an exclusive worldwide feature on BBC Radio 1.
As a woman who has always always been involved in a male dominated industry - drumming, music technology, djing; Georgie is incredibly driven to succeed. She is hoping to inspire other women to step forward and see music as an option. Georgie believes it is time for females to be supported and represented within the music industry to the same extent that men are.
Georgie is racking up the bookings, supporting artists including Dimension, Kings of the Rollers, Sub Focus, Macky Gee, Kanine, amongst many others. She has received international bookings in Prague, Budapest and Barcelona, with the prospect of an Australia and New Zealand tour on the horizon.
Georgie continues to shell her sets on the UK's biggest stages alongside the industry's best.
​