Biography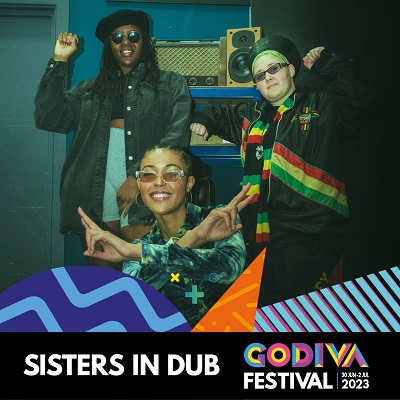 Performing on the Next Stage on Saturday 1 July as part of the Ghost Town Takeover.
Sisters in Dub are an all-female Reggae sound system collective comprised of Cherelle Harding, Danniella Dee & Dj Kat. Coventry natives, all 3 of the Sisters have unique musical journeys. From classical training, gospel, reggae, 2-tone foundations & growing up in sound system families. These influences & experiences inspired the birth of Sisters in Dub.
Representing women in a male-dominated space, Sisters in Dub play a mix of meditative dub, deep roots reggae and energetic steppas - incorporating melodic vocals & live instruments to create a unique, vibrant performance; whilst retaining an authentic Jamaican sound system vibe.
The collective was originally formed in 2019; initially planning to host a regular 'Coventry Dub Club' after recognising there was a need to create more positive, uplifting culturally inspired nights out in Coventry. Unfortunately, Covid 19 hit – meaning the plans couldn't continue.
Fast forward, the group relaunched in 2021 bursting on to the scene after taking part in a series of sound system events in Coventry as part of the City Of Culture 2021 programme.
Playing live for the first time at Dub & Roots session on 8th October, Sisters in Dub were the only females on the bill, playing against Coventry's biggest sound systems. Their infectious energy and carefully curated musical selections led them to claim the crown as winning sound system of night.
This was followed by a performance at the huge Coventry Meets Kingston event on 6th November; sharing the stage with the legendary Beenie Man & sound system heavyweights Bass Odyssey, Stone Love & Ricky Trooper.
Sisters in Dub are undoubtedly the most exciting prospect to emerge from Coventry for some time. The all-female chariot of fire aims to reignite the sound system flame in their hometown and beyond, inspiring the next generation & becoming the future of sound system culture.