Biography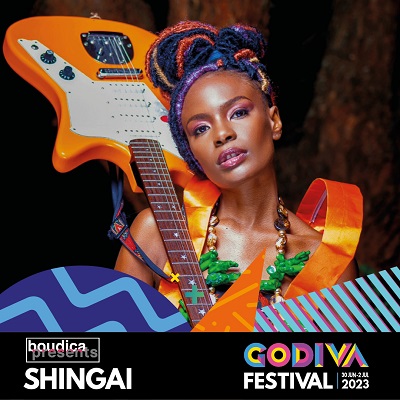 Performing on the Main Stage on Saturday 1 July in partnership with Boudica Festival
SHINGAI is a Zimbabwean-British singer, songwriter and musician, best known as the vocalist and bassist for the platinum selling indie rock band, Noisettes. The voice behind iconic tracks like "Never Forget You", "Don't Upset The Rhythm", "Wild Young Hearts"& Denis Ferrer's house classic "Hey Hey" to name a few.
Having studied circus skills, dance and theatre, Shingai's on-stage performances are an all-round show for spectators, with Rolling Stone magazine saying "Shingai is a living, breathing manifestation of the Rock & Roll spirit, with a voice that is equal parts Iggy Pop and Billie Holiday."
From cartwheels on stage to singing upside-down from balconies she always captures the audience not only with stage presence and phenomenal band, but with her voice & exceptional musicianship.
Having toured extensively over the years, Shingai has graced the stage at festivals like Coachella, Isle of Wight, Wireless, V Festival ,Glastonbury, Summersonic Japan, and the 2012 London Olympics Festival.
Shingai has also collaborated with musical acts such as Patti Smith, Annie Lennox, Paul Weller, Graham Coxon, Dizzee Rascal, Dennis Ferrer, Paul McCarthy, RZA (Wu Tang Clan) and many more on independent projects.
In 2019, Shingai launched her solo career with her debut solo EP 'Ancient Futures', later releasing a critically acclaimed debut solo album, 'Too Bold' in 2020. Both on her own label Zimtron Records.