The Lloyd McGrath Collective
Biography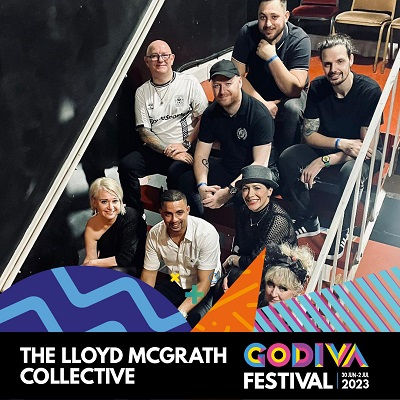 Performing on the Next Stage on Saturday 1 July
The Lloyd McGrath Collective are a 10 piece 2-Tone and Reggae band that play originals and classics to get you on your feet.
The band consist of a host of local talent:
Lloyd McGrath Vocals and Guitar.
Sean Reddington Drums.
Hazel Walker Vocals / Percussion.
Mary Marlowe Keyboards.
Johnny Green Guitar.
Edward Gulliver Bass.
Liz Maxted Sax
Lee Taylor Trumpet
Leah McGrath BVs
Emma Kirby BVs
Lloyd is the main songwriter and lyricist, assisted in composition by the entire band. Our new EP "Destruction" is available on all streaming sites: representing the biggest sound from the Coventry home of 2-Tone.
We were blessed to have supported The Specials on the closing night at Coventry Cathedral.
Having played Godiva's main stage before, they cannot wait to return.