Biography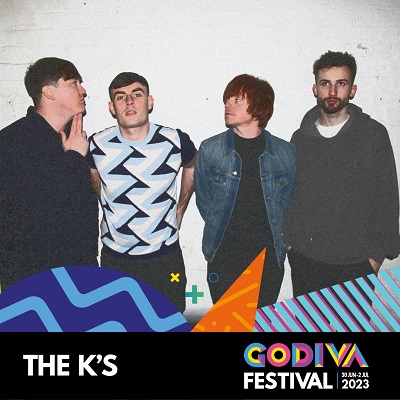 Performing on the Main Stage on Saturday 1 July
If you haven't encountered The K's impassioned bangers, catch up: They've opened the Main Stage to a staggering 8000 people at Neighbourhood Festival, opened the Isle of Wight Festival Main Stage and played before Indie Legend Liam Gallagher in Greece. Their streams are comfortably in the millions- not bad for a band from sunny Earlestown. Their gigs are a guaranteed riot, but that shouldn't overlook the sophistication that gives The K's the immediate identifiable blueprint. Their Debut single Sarajevo is one of the few rock & roll songs to namecheck Austro-Hungary, notching up over 3 million streams in the process.
As singer/guitarist Jamie puts it "We've crafted our own sound. Even if I'm not singing, you'll know it's a K's song. We want to leave a legacy, to be more than just a band. I've seen it with my dad's love of The Jam, where it becomes a lifestyle for people. We want it to be so much more than just listening to the music, it's developing so that everyone is united, in a room with thousands of other people who share a common interest, all having a mint time. That's what The K's are about".
The K's began in Earlestown with frontman Jamie and bassist Dexter growing up together the pair were in and out of bands together through their school years but in later years formed The band that is now The K's. When Jamie met Ryan, who'd already shared stages with huge bands including The Who, The Killers and Aerosmith as a session guitarist in his brother's band Slydigs, that's when things started to click. Although Ryan was living the dream of enjoying one big party while playing arenas and the biggest stages around the world, he wanted to seek out his own creative outlet in joining The K's.
It's clear The K's are going to keep growing, a cult sensation. It's an irresistible, irrefutable spirit, welcoming to anyone who wants to escape into a better, more hopeful world and after all, they'll be playing all your favourite songs, put em on, put em on, put em on, put em on.