Godiva Festival tickets go on sale on Friday 3 March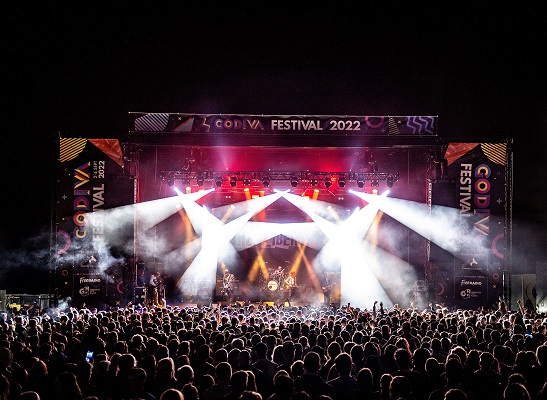 Tickets for this year's festival are set to go on sale at 9am on Friday 3 March.
The line-up for the festival, which takes place in the city's War Memorial Park, will be revealed over a number of days from Monday 27 February, with the vast majority of the line-up announced by the time tickets go on sale.

The first 20,000 Early Bird tickets will be sold at the same price as last year, with ticket prices gradually rising as the festival weekend gets closer. This means tickets to this year's festival can be bought for as little as £15 for an Adult Weekend Ticket and £40 for a Family Weekend Ticket for two adults and two children.

For the first time ever, this year's event will see a new Premium Zone which gives festival-goers access to a premium private area, enhanced bar, fast track entry, access to private toilets and much more.
Tickets will be on sale from 9am on Friday 3 March and will be able to be purchased at www.godivafestival.com/tickets. People can get notified when tickets go on sale by signing up for our e-newsletter.
The full list of ticket prices can be found at www.godivafestival.com/ticketprices.

Deputy Leader of Coventry City Council and Cabinet Member for Events, Councillor Abdul Salam Khan, said: "We are delighted to announce that tickets to Coventry's favourite annual event will be on sale very soon.

"We know fans of Godiva Festival are always eager to find out about the line-up, so we will be announcing our headliners, plus other acts, ahead of tickets going on sale.

"Due to the cost of living crisis, we have worked hard to make sure we could hold the prices of the first 20,000 tickets sold, meaning those tickets will cost exactly the same as they did last year. The remaining ticket prices have also been kept as low as possible.

"We know how much this festival means to the people of Coventry, and we want to make sure that those who want to attend this fantastic event have the opportunity to purchase tickets at our best value Early Bird prices."
In addition to live music, this year's festival will feature food stalls, exhibitions, and family-friendly activities, making it the perfect summer outing for the whole family.

To keep up to date with all the latest news and announcements , head to www.godivafestival.com, sign up for the free festival newsletter or follow us on Facebook, Twitter, Instagram and TikTok.