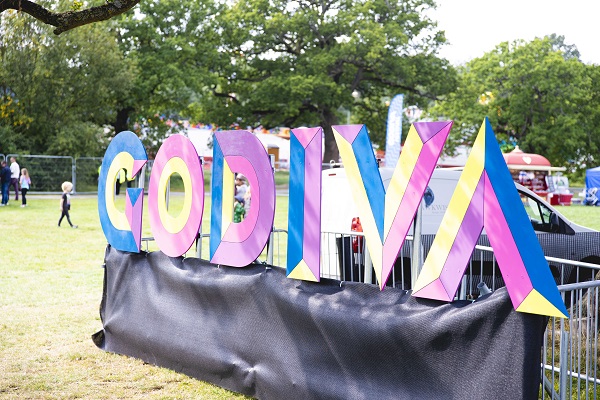 Godiva Festival welcomes everyone and believes that everyone should be able to enjoy our event. You'll find more details below about what to expect at the festival and the support we can provide.
As always, we want to hear from you if you have any questions. So, please email us at godivafestival@coventry.gov.uk if you have a question or suggestion.
Personal Assistants
If you have a personal assistant attending to support you with your disability then you can purchase a Carer ticket for them in advance though our ticketing page. When in the booking process, you will need to select your Carer ticket along your own ticket. Please be aware you and your personal assistant must enter the festival at the same time.
Priority lane
We understand that queuing can be difficult for some our guests. To make your arrival on-site easier, we have a priority lane for Access users, which can be used by you and your Personal Assistant/Carer.This is located at the main festival entrance.
Blue Badge parking
A section of the car park will be available for Blue Badge holders to park in. Blue badge holders do not need to pay for parking, but we advise they pre-book to guarantee availability. You will need to show evidence of a Blue Badge to stewarding staff on arrival at the park. You'll need to contact our partner TicketSellers to pre-book your Blue Badge parking ticket. You can do this via email info@theticketsellers.co.uk or by calling them on 0121 472 6688.
Medication
You can bring medication with you but please make sure security on the gate are aware of it.
Viewing platform
There is a raised viewing platform in front of the Main Stage. Our friendly security will be managing the viewing platform and it operates on a first-come, first-served basis.
Seating
Visitors can bring camping chairs with them on the Saturday and Sunday but not on the Friday.Seating will be available on our viewing platform on the Friday. Please be aware that camping chairs will need to be moved later in the day to allow for increased viewing space
Assistance dogs
We welcome assistance dogs to Godiva Festival. The only dogs allowed on site are assistance dogs .
High Dependency Unit (HDU)
We have a HDU on site which can be accessed upon request. If you need to find it, please ask your nearest steward.
Strobe lighting
Please be aware that stages may use strobe lighting and may cause a reaction if you have photosensitive epilepsy.
Toilets
There are accessible toilets at each toilet location and nearby the accessible viewing platform. Accessible toilets are also available in the Premium Area.
Electric scooters and wheelchairs
Godiva Festival happens in War Memorial Park. The Park is a truly stunning location but we recognise that it's large size and uneven surfaces can prevent a challenge to some of our visitors. Particularly in the event of rain, where the grass can become slippery or muddy. We would recommend that if you have mobility issues you consider either renting an electric scooter/wheelchair or bring your own with you.
We working closely with our partners, Concord Mobility, to provide a number of electric scooters and manual wheelchairs at the festival. These can be hired at our Event Mobility Unit which will be situated near the Visitors Centre which is adjacent to our accessible parking site.
Electric scooters and manual wheelchairs must be pre-booked. You will be able to book them by using an online form. That form will be live in the coming weeks.
On arriving to pick up your scooter we will require 2 forms of identification with your address on. You will be asked to leave a name and contact number as well as sign a conditions of hire.