Biography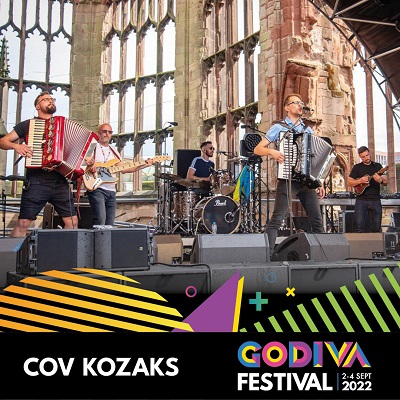 Performing Friday 2 September on the Main Stage
Cov Kozaks are a British-Ukrainian band who have been producing their own unique twist of traditional Ukrainian folk songs in their own unique British rock-punk-ska-funk style since 2016. In just 5 years, the band has played all over the U.K, travelled to Belgium and Ukraine as well as headlined many of the main UK Ukrainian Diaspora events including 'Hospoda Live' and 'Kultura' Music festivals and 'Pyvofest 2017' – the UK's number One Ukrainian beer festival. The Cov Kozaks have also shared the stage with great bands such as Tuhaj Bej (PL) the Ukrainians (UK), as well as Ukraine's very own Shpilasti Kobzari and Kozak System as part of their UK tours, entertaining crowds with their energetic and fast-paced style.
Not letting Covid-19 stop them the band recorded an acoustic rendition of "Сумно" which was released onto YouTube and as their first gig back the band were selected to perform at Coventry Cathedral Ruins for "The Home Sessions", a series of gigs presented by Terry Hall, lead singer of legendary ska group "The Specials" as part of the Coventry UK City of Culture 2021 celebrations.
The boys have also found time to hit the studio and record and release:
Stand Aside Mykola' (2017) - Their debut EP which has been listened to internationally and received radio air time in the UK, Canada and Ukraine.
Who Else But an Idiot Would Want To!" (2018) - Their live album capturing the raw energetic performance of the group.
Put Your Faith in the Sword and the Sword in the Polka" (2022) - A 7 track album and culmination of the 5 year journey as a band where listeners can get caught up in the moods evoked: from swirling dance music, through more balladic songs to anthemic communal sing alongs. Upon release and in light of the current Russian war in Ukraine the band have decided that all proceeds will go to relief charities supporting Ukraine.