Biography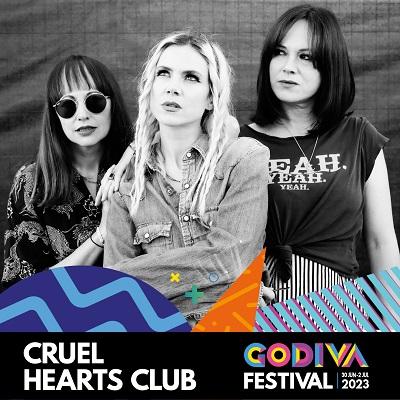 Performing on the Main Stage on Friday 30 June.
By night, the Cruel Hearts Club will be found tearing through sets full of punk rock attitude and grunge dynamics, their songs and gritty glam aesthetic fuelled by double-shots of romantic decadence. By morning, however, the trio are three mums who make the joys and challenges of family life their number one priority – like countless others all over the country.
It's not a lifestyle that's common amongst new bands, but it's an approach that gets to the fundamental heart of rock 'n' roll: do whatever the hell you need to do to fulfill your creative needs, and don't let anyone else's opinions or stereotypes dissuade you.
The raw power of Cruel Hearts Club's music speaks for itself. Earning early tastemaker acclaim alongside airplay from Radio 1 and Radio X, they have already supported an eclectic array of big names ranging from Iggy Pop to Sting via The Libertines and James. And their debut EP 'Trash Love' has everything it takes for the club's membership to swell.